UK Diversity Legal Awards 2021 – Winners announced!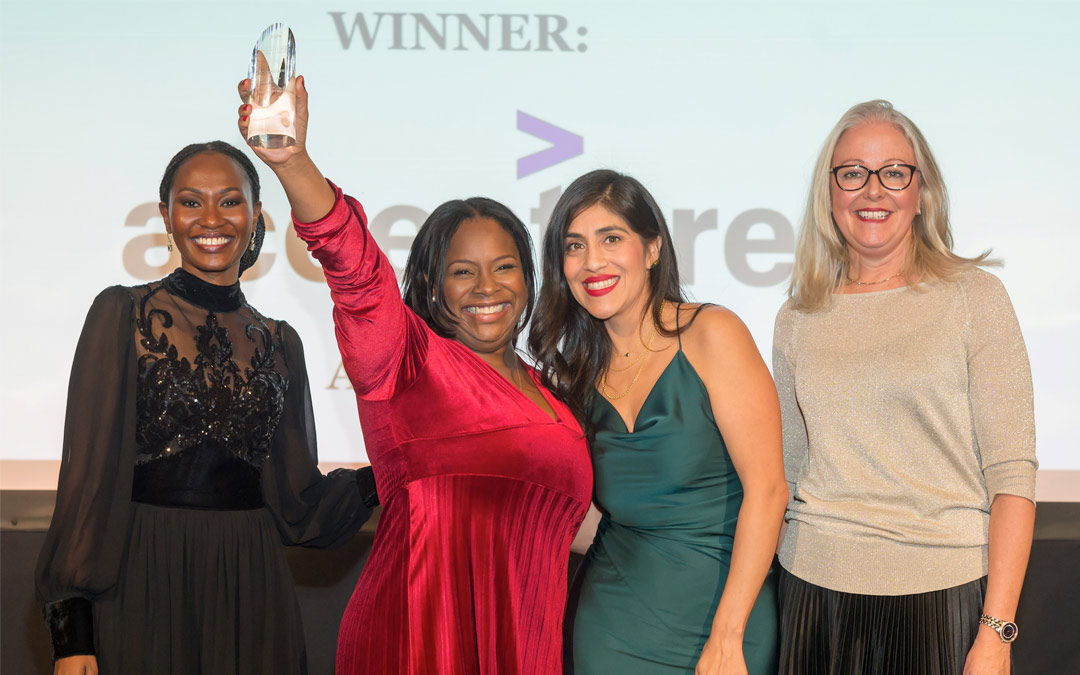 On 30 November, more than 300 guests turned out to see the winners unveiled at a glittering ceremony held at the Plaisterers' Hall, One London Wall to celebrate exceptional achievement, individuals and teams who are making a difference. The Awards were presented by BBC correspondent, Nancy Kacungira.
The UK Diversity Legal Awards are the only industry awards that focus solely on recognising and promoting equality, diversity and inclusion across the legal profession in the UK.
After what has been a challenging couple of years, it was great to be able to gather and celebrate diversity in all its forms from across the legal sector. We were truly inspired and empowered by the trailblazing and pioneering work, committed and visible leadership and achievements demonstrated by our finalists and winners. As the winner of the BSN Lifetime Achievement Award, Grace Ononiwu CBE, summarised perfectly, "we can all be part of the change we want to see".
Special thanks to our Sponsors this year, Accenture, Linklaters LLP, Thomson Reuters and the Solicitors Regulation Authority, for their support and contribution towards making this celebration of equality, diversity and inclusion in the profession possible.
Commenting on the Awards, BSN Chair and host, Paulette Mastin, said: "I would like to congratulate all of tonight's winners. In these extraordinary times, it is wonderful to see the unwavering commitment of these individuals and organisations to championing and advancing diversity, equity and inclusion in our profession."
Our inspirational Award winners and highly commended this year are:
Recruiting Diverse Talent
WINNER – London Borough of Hackney – Legal and Governance Services
Managing Diverse Talent
WINNER – Doughty Street Chambers
BSN Rising Star (Private Practice)
WINNER – Jivaan Bennett, Associate, Linklaters LLP
BSN Rising Star (Chambers)
WINNER – Natasha Shotunde, Barrister, Garden Court Chambers
Diversity Champion
WINNER – Raggi Kotak, Barrister, One Pump Court Chambers
Law Firm Diversity and Inclusion Initiative of the Year
WINNER – Burness Paull LLP
Chambers Diversity and Inclusion Initiative of the Year
WINNER – Harry Matovu QC, Brick Court Chambers (Charter for Black Talent)
In-house Legal Diversity and Inclusion Initiative of the Year
WINNER – Accenture
Outstanding Race & Ethnicity Employee Network
WINNER – Kingsley Napley
BSN Sole Practitioner / High Street Firm of the Year
WINNER – Lubna Shuja (Legal Swan Solicitors)
Access to Justice
WINNER – MTC Solicitors (Naga Kandiah)
Mental Health & Wellbeing
WINNER – Linklaters LLP
Disability Inclusion Award
WINNER – Mills & Reeve LLP
BSN Lawyer of the Year (Private Practice)
WINNER – Kem Ihenacho, Partner, Latham & Watkins
BSN Lawyer of the Year (Chambers)
WINNER – Grace Brown, Barrister, Garden Court Chambers
BSN Lawyer of the Year (In-house Legal)
WINNER – Ofei Kwafo-Akoto, Senior Legal Counsel, GLP Europe
BSN Lifetime Achievement Award – Grace Ononiwu CBE
Highly commended recognitions were awarded to:
BBC (In-house Legal Diversity and Inclusion Initiative of the Year)
Freshfields Bruckhaus Deringer (Outstanding Race & Ethnicity Employee Network)
Dr. Imranali Panjwani, Diverse Legal Consulting (Access to Justice)
Shoosmiths LLP (Mental Health & Wellbeing)
Warren Wellington, Associate, Latham & Watkins (BSN Rising Star (Private Practice))
Chair of the Awards judging panel, Justine Lutterodt (Director of the Centre for Synchronous Leadership) added her congratulations to all finalists, winners and those highly commended, and expressed her "hope that by highlighting the example set by those leading the way, more organisations will be inspired to do their part to leave a meaningful legacy for the next generation."
You can also see the winners by clicking the below